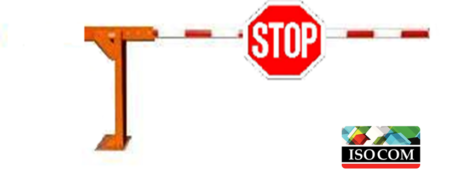 ISOCOM wanting to contribute to the risk management of Physicists
Flood Disasters, has set up a Working Group on
Research and Innovation department in September 2019 with Project
"Safe passage in Irish Passages" (road crossings that
intersect with rivers) The team has already completed its work and
has registered his copyright, with a Diploma
Patent to the Industrial Property Organization. 
Πρόκειται για Αυτόνομες Μπάρες Ασφαλούς Διέλευσης απο Ιρλανδικά Περάσματα.  Safe Pass 333

When the water level has risen to a dangerous point then the bars automatically go down prohibiting the passage.

Δείτε ΕΔΩ την εισήγηση σε εκπαίδευση για τις Αυτόνομες Μπάρες Ασφαλούς Διέλευσης στο Ινστιτούτου Διαχείρισης Ανθρωπογενών και Φυσικών Καταστροφών