For us, Occupational Safety and Health is the most sensitive service we offer, as the preservation of Health is the highest good for man.
The risk management of a business (Risk Management), is a matter of its survival in the event of an event, the magnitude of which can not be determined. The company or organization must, in addition to the formal legal requirement, have taken all precautionary measures to prevent the incident, but if so, there must be a plan to deal with it.
With more than 30 years of experience in Occupational Health Safety, certification  NEBOSH International General Certificate in Occupational Health and Safety and certification as system inspectors  ISO 45001:2018, OHSAS 18001 / ELOT 180 (TÜV AUSTRIA HELLAS | IRCA | CQI) our customer network receives high quality services.
We participate as consultants in various Organizations, Associations, Institutes, etc. in the context of our corporate social responsibility.
According to the Greek Legislation (Law 3850/10) every company, regardless of the size of its staff and the type of its activity, is obliged to have an Occupational Safety Technician with basic responsibilities:
Providing written or oral instructions to the employer regarding Safety, Occupational Health and the prevention of accidents at work.
The control of the safety of the facilities and the production processes and the supervision of the implementation of the safety and health measures.
The inspection of jobs.
The investigation of accidents at work and suggestions to avoid their recurrence.
Supervision of emergency, fire safety and alarm drills to determine disaster preparedness.
His participation in the preparation and implementation of training programs for employees in matters of occupational safety and health.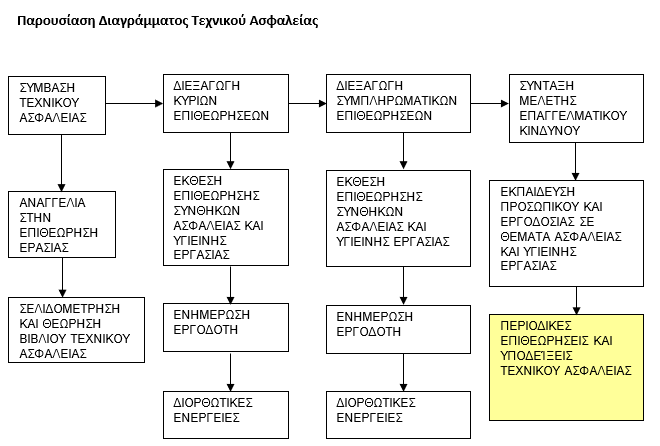 The Occupational Safety and Health services we provide to you are the following:
Compilation of Occupational Risk Study
Legal assistance
Personnel training
Measurements of physical chemical agents
Occupational risk management
Danger warning sign
More specifically, our services concern:
In Technical works

Construction risk management
Safety and Health plan and file
Security Coordinator during the project

Environment

Environmental management
Cross-border ecological disposal of hazardous waste

Job planning and evaluation

Jobs
Equipment, machinery
Working conditions
Ergonomic design
IT customization

Risk studies
Building characteristics
Stability, space, air volume, freedom of movement, floors, ceiling. walls, doors, roof, windows, corridors, stairs, emergency exits, sanitary equipment, room cleaning, locker rooms, dining areas, toilets, maintenance conversions, scaffolding, lifts (elevator, Clark, etc.), falls from a height etc.
Workplace Design (Location) 
Jobs for Tool Warehousing Machines, Office Ramps, Unloading Loads, etc.
Physical factors
Ventilation, air conditioning, control of gaseous pollutants, thermoregulation, Work lighting. Premises, security lighting, control of noise, vibration, radiation.
Biological chemical agents
Hazardous substances (lead asbestos carcinogens, etc.) Classification of biological agents in risk groups.
Manual cargo handling:
Musculoskeletal problems, ergonomics in-house circulation.
 Dangers of electricity
Safety specifications of equipment and machinery, inspections, certifications
Means of personal protection
OSH marking, hazard warnings
Fire safety studies
Emergency planning